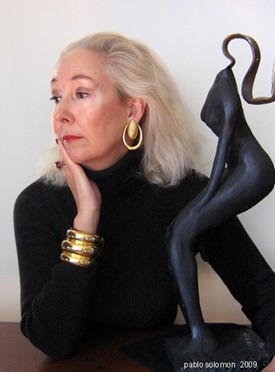 "Real Women Of Leisure" is a series that looks at successful women and their secrets to having it all. These women have made their own success or are married to it, and share with you how you can get a bit of the good life, and some dating advice.   This week we look at Beverly Solomon, Creative Director of musee-solomon, the art and design business she runs with her husband artist Pablo Solomon.  She can be found at www.beverlysolomon.com.
1. How did you select your husband? Did you rely on instinct on which man to pick or did you observe his behaviors for a while to see if he could be the provider you wanted?
When I met my husband internationally recognized artist Pablo Solomon at one of his art shows, it was love at first sight. For me, my biggest decisions have always been made on instinct or what I call my "gut feeling" and that feeling has never failed me. However, I will take days to research what kind of pillow to buy. Go figure!
2. What projects, if any, are you working on now or wish to pursue?
For my art and design business, I'm exploring ways to eventually have a passive income perhaps with royalties. For fun, I would like to go back to Rome and Paris to meet with friends and explore some galleries and museums that I have not seen before.
3. What typical spots can women go to meet a 'generous male'.  Do some of them prefer match making agencies?
My husband and I had a friend who fell on hard times when her husband left her. To our surprise, she emptied the last of her savings account to buy a few very nice clothes (nothing faddish) at Neiman Marcus and a membership at the most exclusive country club in Houston. Instead of pounding the pavement looking for a job like I would have, she would hang out by the pool and attend events at the club. She met and mingled with the richest and most powerful people in Houston. In a few months, she was living in a mansion while the couple was in Europe on an extensive trip. Before we left Houston for our ranch in the Texas Hill Country north of Austin, she was leaving for Europe. Unfortunately, we lost contact with her but I would bet she is living the good life that most people can only dream about. This story taught me a great lesson. If you want to be a success in love and life, don't hang out with losers!
Below is a short list of where to meet successful people/a generous male:
Become a member of your Fine Arts museum, go to cultural events in your city such as an opening exhibit at a gallery, have a drink at an expensive restaurant–you may be invited to dinner later. Well you get the picture.
4. Marrying is great. However, what if that isn't the end goal? What do you think about dating these men just for fun and finances?
Personally, I think if you are young don't fool around and lose a really good guy who will love and take care of you. However, I know older widowed or divorced women who choose not to marry again as their husband(s) left them in a very good financial situation. Now they want to be single but have a fun companion with which to travel and go to parties.
5. Should husband and wife both agree on which funds the wife have access to? Money a wife does not need to ask her husband's permission for?  How can a woman negotiate that?
It depends on the individual and should be discussed before marriage. Since I was one of those independent working women before I married Pablo, I had no problem discussing finances with him. From the beginning, we decided how much money would go into each account–checking for routine stuff, fun money for vacations, money for investments, etc. It works for us because we had the discipline and tenacity to stick to our financial goals.
6. What are great business to start or be employed in to meet a financially stable man or attract your own financial success?
It's hard to say right now because of the present economic uncertainties. All of my wealthy clients are waiting to see what happens. Every day there seems to be new rules and regulations coming down from the government that no one seems to understand. However, I do know that everyone is drinking more so you might want to get a job at the Four Seasons Bar so you will be the first to know what to expect in the future.
7. Any thing else you'd like to add?
Practice excellence in all that you do. I truly believe in the Power of Positive Thinking and prayer. My husband Pablo says that God has two destinies for each of us–one positive and one not so good–it depends on our choices.
Read more Real Women of Leisure.