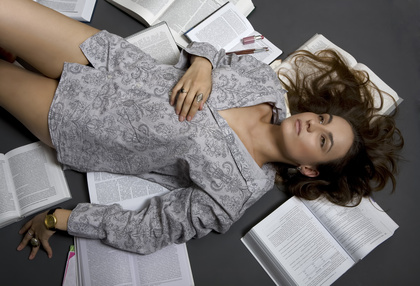 "An alphanista knows two things-the art of reinvention and the art of surprise….
What happens when you can't be all that you thought you could be?
You reinvent yourself.  Reinvention is not a linear process.  It has nothing to do with finishing school, getting the right friends, job, love, or home.  It is about surviving adverse situations, coming out on top, re-awakening the "Rocky" in you to surprise yourself, and those who forgot about you.   It's about taking what's left and molding it into the new you.  The thing about reinvention is this:  No one helps you.
It can only happen by the straps of your own boots.  By you sitting at home one weekend, one month, one year, or over lunch with friends, and saying, "Yeah, that's what I want to be."   That "that" may be something you had never tried.   But everything else has been taken from you.  It is your chance to do something new.  To leave a mark.  To be great once again.
Reinvention is for those alphanistas who have a little thing called-spirit.  Spirit is talked about, but rarely understood.   It's that little sing-s0ng in an alphanista that whispers in her ear when she just got evicted.  It's that little word or flash of light she sees when she's just been jailed.  It's that word that tells you "It ain't over yet" because you have whole new chapter, opening up in front of you.  It's those words that help you get up in the morning, and apply for that job you aren't qualified for–and later, get, by the seat of your pants that is a bridge to another place, another you.  Reinvention is about making order out of chaos.

A spirited woman is a woman full of life.   Who can't be beaten.  It's not about strength, but about vision.  Spirited women are not exactly strong, but they stand up, when they get ready.  To me, "strong" is more sturdy, rigid, cold, unemotional.  When you're on your way to re-invention, you're anything but.   You need to be flexible, pallable like dough.
Here are some possible reinventions with varying degrees of transition, many done and written about more than once.  I'm working on one of the below 🙂
Pop Star to Self Help Therapist

Divorced Housewife to Las Vegas Stripper
Starving Artist to Famous Politician
U.S. Ambassador to Fitness Trainer
Small Business Owner to Fortune 500 CEO
An alphanista may reinvent her life several times to make sense of a mess she created.  If she didn't get the husband, get the home, or whatever she had prized, and find a new love.   She may move off to Italy, and become one of the nations' only celebrity foreign chefs.  Odd, huh?  Exactly.  A reinvention hardly ever makes much sense to others, but the inventor….