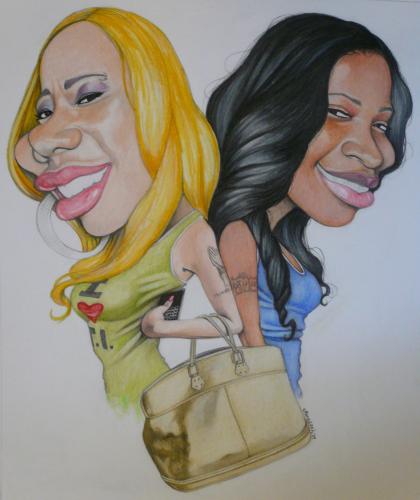 By Guest Blogger Toi
Most of the time, our friends have our best interest at heart.
They want to see us happy, prosperous, and living life to its fullest. When we're experiencing issues and drama in our lives, particularly pertaining to romantic relationships, our friends are typically the first people we turn to.
While it's comforting to have someone to turn to during these times, sometimes we should think twice before disclosing every intimate detail of our relationships to our girlfriends. When you divulge the bad aspects of your romantic relationships to others, it opens the way for them to offer their own opinions and judgments. And while our girlfriends think they are "keeping it real" with us and offering advice, sometimes they're adding fuel to the fire of our insecurities, causing more drama than there should be.
"I wouldn't tolerate that BS from him, girl."
"You should leave him, he isn't worth the headache."
"I'd hate to see you wasting your time with that good for nothing SOB."
We need to take personal responsibility for sharing the "bad" of our romantic relationships with our friends. Most of the mishaps we experience with our men are just that, mishaps. He didn't call when he was supposed to. He had to cancel date night to work late. He wasn't paying enough attention to you while you were out at a party. Sometimes the mishaps are larger. He may have cheated or didn't come home when he was supposed to. No matter the magnitude, as an Alphanista it's up to YOU to decide if it's worth sticking it out, not your friends. You're the one in the relationship, not them.
No one knows what's going on with the two people in a relationship except for the people in it. Maybe you should leave him…or maybe you feel it's worth working out. Either way, pause and take a minute to cool down before you throw your relationship under the bus to your friends. Allowing others to offer their opinion on your relationship while you're upset can influence you to make rash decisions, making things worse than they have to be.
Guest Blogger Toi Duckworth is a sophisticated b-girl from Los Angeles who dishes on urban lifestyle topics via her blog, http://hiphopmuse.com.
Only 3 Days Left! Join the Alphanista Inner Circle II and don't be left (stuck) out!
GET IN BY CLICKING here