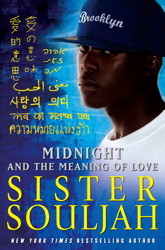 by Aminah Hanan
Sister Souljah takes us on a journey in the second installment, released early this month, to her prequel to The Coldest Winter Ever that spans two continents with one of our favorite Hot Boyz, Midnight.
The story opens up in the projects of the Bedford Stuyvesant neighborhood of Brooklyn, New York in the spring of 1986. Souljah's storytelling paints a picture so vivid that you can almost hear the vinyl beat of Eric B. & Rakim's Eric B. Is President playing in your head as you turn the pages.
A skilled warrior trained in the martial art of Ninjutsu Midnight must pool his financial and mental resources as he prepares to face his most vicious opponent Naoko Nakamura, his father-in-law. Nakamura, opposed to his daughter, Akemi's, marriage to the Sudanese teenager, he has kidnapped her and taken her back home to Japan. Midnight is determined and will stop at nothing as he sets out on a quest to the Land of the Rising Sun, with love as his only weapon, to confront his father-in-law and bring his wife back to Brooklyn.
When I first met Midnight in the Coldest Winter Ever I was as fascinated by his character. What was his motivation? Could he be that disciplined surrounded by so much deception and deviation? Midnight is the ultimate dichotomy at its best. Proof of the old adage, never judge a book by its cover. He is a devout Sudanese Muslim and street hustler rolled into one. While reading the book I had to keep reminding myself that he was a young man who had not yet reached the age of twenty. Faced with having to deal with adult circumstances, as many teenagers often are, instead of making all wrong decisions most of the time Midnight walks the tightrope striking a balance between heaven and the hell that surrounds him.
Midnight and the Meaning of Love is a good read even if you have not had the pleasure of reading The Coldest Winter Ever or Midnight: A Gangster Love Story. The story stands alone peppered with memories from Midnight's Sudanese homeland and his life with Akemi before she was kidnapped. Souljah has done her homework with this one, as evidenced in the advance copy of the book's Acknowledgments. Traveling to four different countries she connects and weaves the cultures together seamlessly on American soil, the projects of Brooklyn her Ellis Island.
Aminah Hanan is an alpha female, blogger, book lover, blog conference Program Director, crafter, Health Care Professional, and writer who lives in Chicago with her family. Email her at aminahhanan@gmail.com