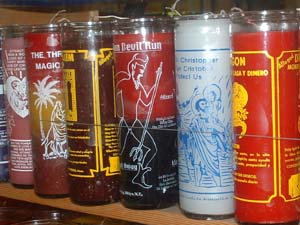 This is one of the most popular advice questions.  Enjoy!
_________________________
Dear Alphanista,
Before I go into this let me just say I am a Christian woman, MBA educated, come from a two parent home, and am gainfully employed.
I am active at church and I am also open to other ways of thinking and religion.   Okay now that is out of the way, I have had an on again off again relationship with my ex.  I prayed on this and really believe the man is my soulmate he just doesn't know it yet.  Know what I mean?  A woman usually has a sense of those things.  All around the world I've traveled and I am sophisticated enough to know there are different ways of crossing the street.   I have seen women, some in my own family use roots or candlework to achieve certain things.  I'm from Barbados and I know how these things work.  I don't know all the details nor do I wish to share them here but I am tempted to try it and want to do it right.  I want this man back.  Can you reccommend anything?  How can I make him know that we are meant to be without telling him?  I'm willing to try anything at this point!
Tempted,
Yasmin
(Yonkers, NY)
_________________________________________
Dear Yasmin,
Well, well, well, I was waiting for one of these.
I will not judge you whatsoever.  As you know that isn't something you can share with alot of people for fear of being seen as, oh, a bit strange.   Most people have never heard of candlework or roots and are scared of these things.   Once you educate yourself in this area, you'll be better situated to make your own decision.
I, too, have known people who have "done" things.   They explain it as certain things carry certain energies that help you achieve certain things.  The things don't help you "get" what you want, it is always from God or the higher power you believe in.   Most people who practice these methods rely on God, but take it to another level from just a Sunday prayer.  A large number of celebrities and wealthy people have psychics and "workers" who use certain methods.   The stakes are high in these areas and they need 110% assurance.  I'm sure you understand that  all power comes from only one Source.   Most "workers" who use amulets, candles,herbs, charms, figurines, etc are praying to their God and these objects represent their intention.  It makes it more real.
Thus, they manifest something which can only be explained as the energy they put into their intention.  This can be accomplished without these things but for many it can be challenging.  According to experts in this area, sometimes the objects and methods help one to keep focused on the intention.  They believe more in it, thus it manifests their desire.  I hope you see where I'm going.
I caution you against using any kind of method to get somebody back.  Spiritual cleansings, novenas, and the like, in any form can help remove negative blocks and walls around our lives.   Most of these blocks are put there by our own thinking which is an incredible force and needs an incredible force to break down.  Be it God or however one describes or interprets the Source of their beliefs. Methods like these for protection and road openings are the best way to achieve clarity and answers.
If you use more aggressive methods to "get" a particular thing, it will come back to you in some way.  You may have to exchange something.   What you get by force, you have to keep by force.  Let him find his way back on his own accord.   Check out the Alphanista ebook-9 Tuesdays for a start.   It's perfect for your situation because it allows you to let go and let be.
And be careful what you ask for, you just may get it 😉
From Alphanista w/Love,
MR

Send brief advice questions to maryann@alphanista.com.   Not all questions can be answered.